Ah, Thanksgiving – a time for gratitude, family, and, of course, feasting! But if you find yourself in New Orleans during this festive season, you're in for an experience that stretches far beyond the traditional turkey and stuffing.
The Big Easy, known for its vibrant culture, rich history, and tantalizing cuisine, transforms Thanksgiving into a multifaceted celebration.
This isn't just about a meal; it's about diving deep into a city pulsating with life, traditions, and endless surprises.
Here's a guide to immerse yourself in a New Orleans-style Thanksgiving and make the holiday truly memorable.
And there is one thing, which makes Thanksgiving at New Orleans even more special- and that is the infamous Thanksgiving Day Parade! To know more, follow along!
List of the best things to do for Thanksgiving this year
1. Parade Extravaganza: Bayou Classic Thanksgiving Day Parade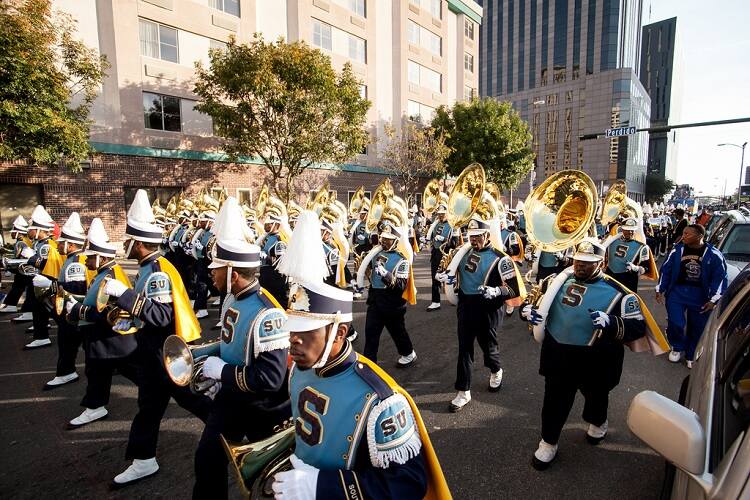 Why it is a must-visit:
Each Thanksgiving, New Orleans buzzes with the excitement of the Bayou Classic, a cherished tradition for Grambling State and Southern University fans.
What began years ago as a football match between two historic universities has become a major New Orleans event.
During this particular weekend, fans paint the town in their team colors: black and gold for Grambling and blue and gold for Southern.
The celebrations begin with a vibrant parade and a lively Battle of the Bands. The climax is on Saturday at the Mercedes-Benz Superdome where the Tigers and Jaguars showcase their rivalry.
This football tradition, which started in the 1930s, was named the "Bayou Classic" in 1974. Over the years, many players from these teams have gone on to play in professional leagues.
Notable mentions include Willie Davis and Charlie Joiner. Grambling's legendary coach, Eddie Robinson, is known for his unmatched record in college football.
The game day features a Thanksgiving Parade that begins at the Superdome and winds its way to the French Market. This parade boasts floats, bands, and a segment from the Zulu Club, an esteemed group in New Orleans.
The post-Thanksgiving Friday sees the bands face off in the Battle of the Bands, a treat for music and dance enthusiasts.
Saturday morning offers a Fan Fest full of music, food, and fun. For those who can't attend the game, many local spots in New Orleans broadcast it, making sure everyone gets a piece of the action.
2. Musical Showdown: Bayou Battle of the Bands

Why it is a must-visit:
On November 24th, get ready for a musical treat as bands compete head-to-head. Dance, eat, and soak in the lively atmosphere.
3. Sports Spectacle: Bayou Classic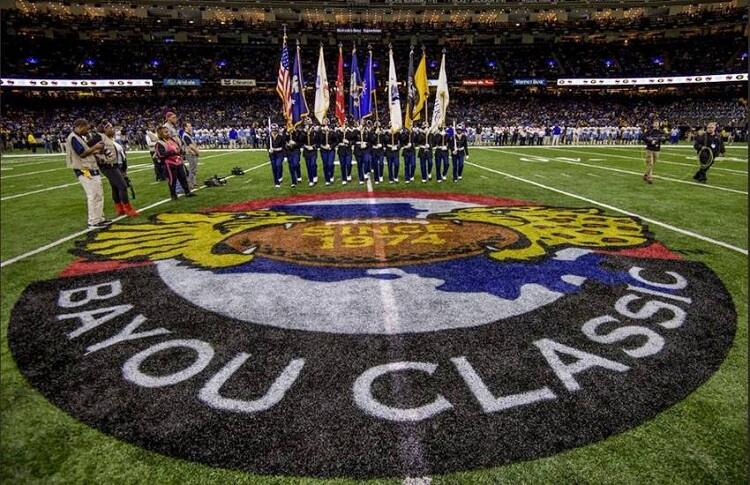 Why it is a must-visit:
On November 25th, cheer for your team at the Bayou Classic football game. Revel in the competition and the vibrant city spirit, making your Thanksgiving unforgettable.
4. Movie Magic: The Broad Theater and Prytania Theatre

Why it is a must-visit:
Fancy a break from the festivities?
Head over to either The Broad Theater or Prytania Theatre to enjoy a movie. Just make sure you keep some space for that delicious popcorn!
Location and Contact
5. Derby Delight: Fairgrounds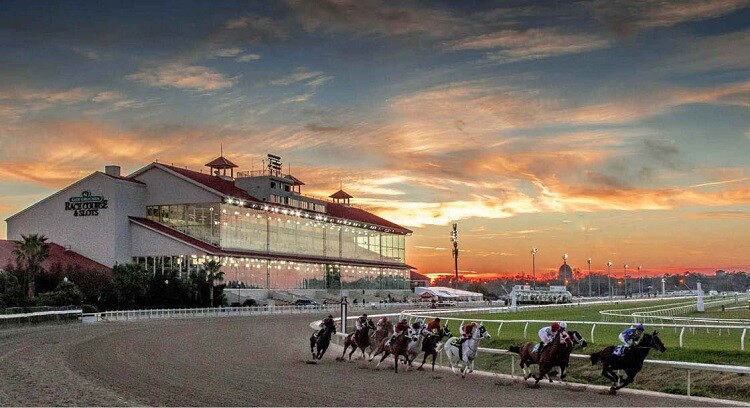 Why it is a must-visit:
Dress up fancy and feel the thrill of the races at the Thanksgiving Classic, marking the beginning of the racing season. Remember to toast with mint juleps!
6. Fun at Easton Park: Human Horse Races
Why it is a must-visit:
Join the playful fundraiser at Easton Park where folks race as "horses". There's music, trophies, and a feel-good factor as it's all for a good cause.
Location and Contact
7. Pie Paradise: Windowsill Pies and La Boulangerie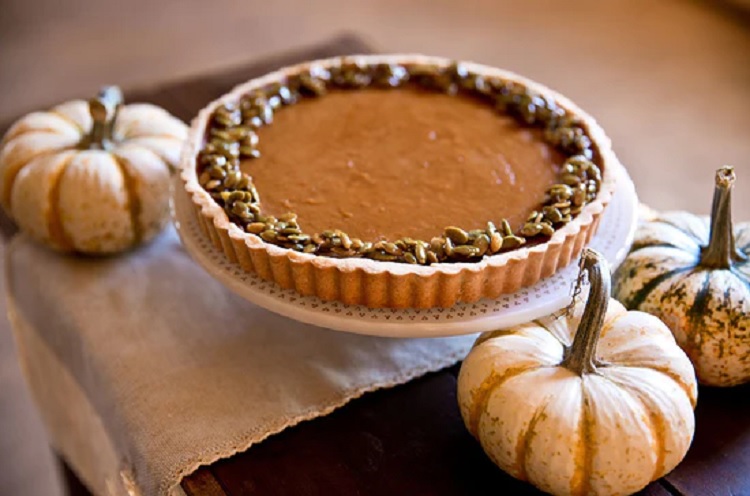 Why it is a must-visit:
Swap baking stress for bliss by picking up a delectable pie from either Windowsill Pies or La Boulangerie. Their Thanksgiving specials will make your mouth water.
Location and Contact
8. Get Active: NOAC Turkey Day Race
Why it is a must-visit:
Before indulging, participate in the famous NOAC Turkey Day Race at New Orleans City Park. An age-old tradition, it's perfect for both runners and cheering crowds.
9. Tasty Retreat: Local Restaurants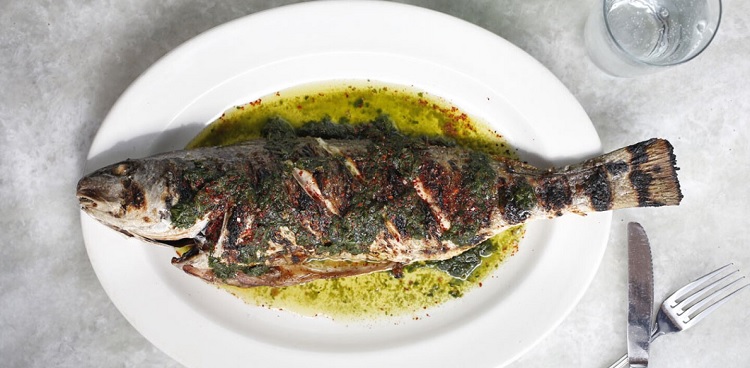 Why it is a must-visit:
There are countless restaurants open on Thanksgiving day that serve both traditional and unique feasts. Dive into the local flavors without any cooking hassle!
10. A Sweet Tradition: Café du Monde
Why it is a must-visit:
Step away from traditional pies and pamper your sweet tooth with the iconic beignets at Café du Monde. A treat that's always in season!
Location and Contact
11. Chill Spot: Whiskey & Sticks

Why it is a must-visit:
Relax and unwind with a crafted cocktail and premium cigar at this cozy spot, ensuring a laid-back Thanksgiving.
Location and Contact
Conclusion
It's more than just the parades, the music, or the mouthwatering meals—it's the spirit of community and unity, the heartwarming blend of traditions, and the shared moments that will be etched in our memories forever.
In the heart of the Crescent City, Thanksgiving isn't just a day; it's an experience, a feeling, a dance of cultures and flavors.
So, as you step out from this festive whirlwind, carry a piece of New Orleans in your heart, cherishing the warmth, laughter, and joy it has bestowed upon you. Until next time, cher.